I recently heard a story that all of us with smart phones may be able to relate to…
"Not long ago I woke up and prepared to study the scriptures. I picked up my smartphone and sat in a chair next to my bed with the intention of opening the Gospel Library app. I unlocked my phone and was just about to begin studying when I saw a half dozen notifications for text messages and emails that had come during the night. I thought, "I'll quickly check those messages, and then I'll get right to the scriptures." Well, two hours later I was still reading text messages, emails, news briefs, and social media posts. When I realized what time it was, I frantically rushed to get ready for the day. That morning I missed my scripture study, and consequently I didn't get the spiritual nourishment I was hoping for."
He goes on to say, "I'm sure many of you can relate. Modern technologies bless us in many ways. They can connect us with friends and family, with information, and with news about current events around the world. However, they can also distract us from the most important connection: our connection with heaven." -By Stephen W. Owen (Read his full address HERE)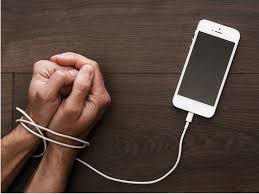 How many of us are suffering from our lack of connection to heaven? How do we get it back?
What about technology getting in the way of our relationships? This week I learned the principle of "turning toward each other", a principle taught by John Gottman. I was not surprised to learn about one major obstacle that hinders people in their relationships. "Being distracted by the wired world."
When we were raising our fist two children, we didn't have smart phones, social media, or Facetime, etc. I actually took pictures with a big 'ol camera. I spent our days fully engaged in being a mother, wife, and friend. When my third son was born, I received my first smart phone in conjunction with his birth. I LOVED that I could take a million pictures of him all the time (and believe me I did!), I could send pictures to family, etc. What I didn't realize at first, was what a distraction my smart phone was becoming. My husband felt the same way about his new smart phone. We both realized quickly that we needed to learn how to navigate life with smart phones in a way that helped us keep control. One way we did this was by turning off notifications, not having any games on our devices, and putting our phones away or in a separate room and just living life. We still do these things today. We have a beautiful life unfolding right in front of us and we can't just let it pass us by!
"All of these electronic devices have gotten us used to having our concentration and focus interrupted. This culture of distraction doesn't benefit intimate relationships, which require the opposite: the habit of being aware and paying attention." The Seven Principles of Making Marriage Work, By John Gottman
At times we still struggle with this still today. What a wonderful and difficult tool! At the touch or swipe of a finger, we can run everything, communicate with anyone, schedule everything, study anything, AND travel anywhere with the help of these little screens that conveniently fit in our pockets. It even provides my workouts every day! I am equal parts grateful for the convenience and saddened by the way that it can be all consuming and damage our relationships with God and those around us. We are constantly figuring out better ways to be more intentional about our smart phone use. I try not to use it in front of my children, at the dinner table, or when I have time with my spouse at night. This plague of technology addiction needs help and attention. If we can control our technology use, we may find a decrease in marital strife, failing family relationships, and we will connect more with God.
Have electronics effected your relationships?
How do you make sure you are more aware and pay attention within relationships?
I would love to hear your thoughts!
Share This: