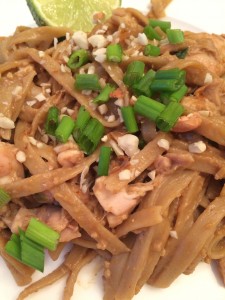 I was preparing to run a 12 miler in the morning, so for dinner the night before, I thought I would make one of my favorite dishes. The perfect mix of protein and carbs to give me the fuel I need to succeed in the morning. This is a recipe that my mom, "Marcia Stewart"– her nick name because she is our version of Martha Stewart, made for me and the fam when we came to visit and we all LOVED it! I have made this a lot because it is so yummy and easy! I love that I can make it with or without meat and it is packed with protein either way.
If you are a peanut butter lover like me, then this dish is for you!!! This Thai and peanut butter flavor is to die for, and it smells ohhhh so good! Let's get down to business.
Ingredients: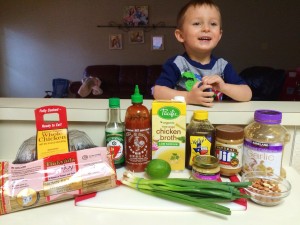 First of all, I have the cutest helper I could ask for. He was "helping" me set everything out. Isn't that smile to die for?!
"Marcia Stewart's" Thai Peanut Noodles
Ingredients:
Linguine (We love brown rice noodles!)
1 c. Chicken Broth
6 Tb. Creamy Peanut Butter
2-3 tsp. Siracha Sauce (If you don't like spicy I would put 1 1/2 to 2 tsp.)
3 Tb. Honey
6 Tb. Soy Sauce
3 Tb. Ginger
4 Cloves minced Garlic
Chopped Green Onions
Two limes cut for garnish.
Chopped Peanuts (optional)
Cooked chicken (optional)
Put everything in pan over medium heat, and mix until smooth. Cook down sauce until it thickens. Add green onions, peanuts, chicken, and lime at the end. 
Bon Appetit!
Enjoy!
Let me know if you like it! Take a pic and be sure to tag us on Instagram! @marathonmommala @triandrungirl . Do you have an awesome Thai recipe? Please share!
XOXO Laura
Share This: