This recipe has become known as the "Famous Cope Family Mediterranean Pizza" at our house and among friends and family. Between the crust, the sauce, and the toppings — you just won't find another pizza like it. It is love at first taste, and sight, really.

I was in Italy a few months ago and after sampling their AMAZING pizza, this is one of the only pizzas I've ever tried that truly rivals the true Italian pizza!
If you find that you need to cut down on preparation time, you can always use pre-made pesto sauce (found in the spaghetti isle of your local grocery store) and pre-make the dough ahead of time letting it refrigerate until you are ready to prepare pizzas.
I wanted to start with the pizza crust. This is a whole wheat crust unlike any you've ever had. It has herbs and garlic baked into the crust to make it extra amazing! I personally love thin crust and this is perfect. This pizza crust is my go to and I use it for other types of pizzas that I make as well.
---
WHOLE WHEAT PIZZA CRUST: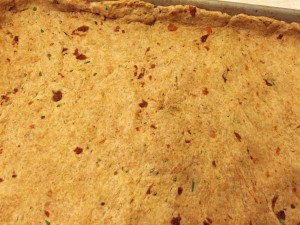 Have you ever seen a pizza crust that looked this appetizing? Bits of fresh rosemary, sun dried tomatoes, and garlic in every bite.

(This recipe is enough to make a thin crust to cover a whole cookie sheet. If you want to make two double the recipe, just double everything but the yeast.) My kids make a pretty amazing pepperoni pizza on this crust!)
1 C. VERY WARM WATER
1 TBS. YEAST
1 TSP. SUGAR
1 TBS. OLIVE OIL
1 TSP. SEA SALT
THEN ADD:
½ C. SUN DRIED TOMATOES
1 TBS. CHOPPED THYME (OR POWDER)
1 TBS. CHOPPED ROSEMARY (FRESH IS BEST)
1 TBS. MINCED GARLIC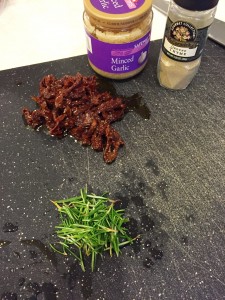 The Secret Ingredients… Mmmmm..
LAST ADD:
2 ½ C. WHOLE WHEAT FLOUR
Put all ingredients for crust together in a medium sized bowl. Spray cookie sheet with non-stick cooking spray (or cover in corn meal). Pre-heat oven to 415 degrees. Mix ingredients after each group is added to the same bowl. If dough is sticky or dry, add olive oil or a little extra flour until dough is pliable and able to be pat down into a cookie sheet. Poke holes in dough with fork all over. Bake crust alone for 8 min. While crust is cooking, prepare toppings for pizza.
---
PESTO SAUCE: 
It really turns out this green and delicious, pictures haven't been enhanced at all!
1.5 OZ. FRESH BASIL (a little less than a handful)
2-3 OZ. FRESH SPINACH LEAVES (about one big handful)
2 OZ. MOZZARELLA CHEESE
2 OZ. SHREDDED PARMESAN
1/8 C. PINE NUTS
1/8 C. OLIVE OIL
2 TBS. CHOPPED GARLIC
½ TSP. SALT
¼ TSP. PEPPER
¼ C. WATER
Add all ingredients to a blender, blend until smooth.
---
Mediterranean Pizza Assembly: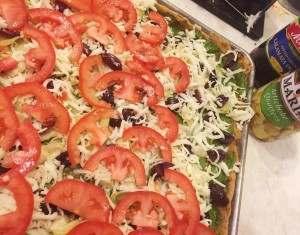 Toppings:
Pesto sauce (see recipe above)
Canned artichoke hearts in water, drained (one can is sufficient)
Halved Kalamata Olives
Sliced Roma tomatoes
(Pick your cheese, we usually do a little bit of all!)
Feta Cheese
Parmesan Cheese
Mozzarella Cheese
Short asparagrus spears (optional)
Sprinkle all over with Italian seasoning
Bake pizza with toppings for 10-12 minutes or until done.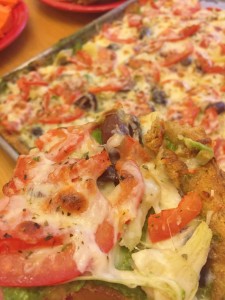 A little hard to tell, but here is a piece of the pizza up close and personal.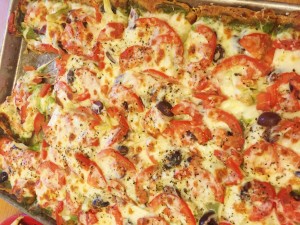 The fully baked beauty!
Dinner is served! With some veggies on the side, and the kids yummy pepperoni pizza.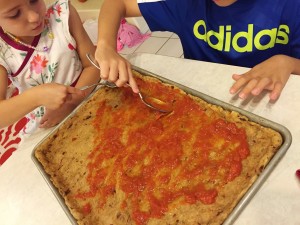 As I said before, you can use this pizza crust for any type of pizza. My kids personal favorite is Pepperoni, and they LOVE to make it themselves!

---
Let your kids take part as you cook in the kitchen. It makes for some wonderful time to chat and teach new skills. I love the time I spend with my kids in the kitchen. They open up about their day, we make a delicious meal or treat, and we all get the satisfaction of yummy accomplishment as we dig in and eat!
Share This: