Eight years ago, I travelled around New England for 18 months serving as a missionary for my church.  In that time, I became acquainted with New Englander's wonderful, unique and quirky way of living.  I also became accustomed to their speech…
"Go pawk the caw in the doh-yawd."  ….allow me to translate, "Go park the car in the dooryard."  Apparently, dooryard means driveway.  Did you know this?  There is no such thing as a dooryard in the western United States… at least where I grew up!
Anyway, New England (specifically Maine, New Hampshire and Vermont) will always be close to my heart.  This is why I am so grateful for recipes like this one to constantly remind me of my friends and 'family' there.
This recipe is coming from the hills of Stowe, Vermont.  I hope you enjoy this 2 ingredient breakfast cereal!
New England Cereal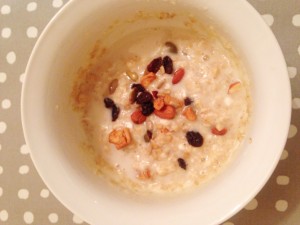 Cottage Cheese and Quick Cooking Rolled Oats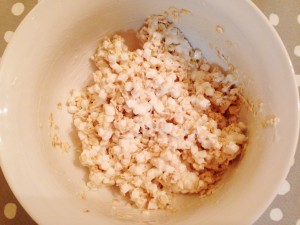 Mix 1/2 c. Cottage Cheese
And 1/3 c. Rolled Oats
Microwave for 90 seconds
Cottage Cheese will melt and…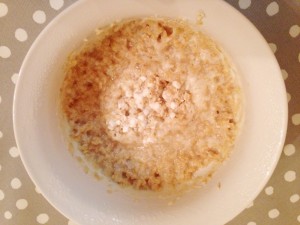 Don't taste it yet! This baby needs some dressing up!
The cottage cheese may not fully melt in the middle but it is best that way!
Stir it, add your favorite type of milk,
and your favorite toppings…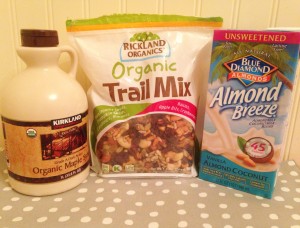 Real Grade A Vermont Maple Syrup is a staple at our house. (Mrs. Butterworth's is illegal) #syrupsnob
You can get both the syrup and trail mix at Costco.  And I'm really loving this Unsweetened Almond/Coconut Milk hybrid.  I bought this at Sprouts and highly recommend!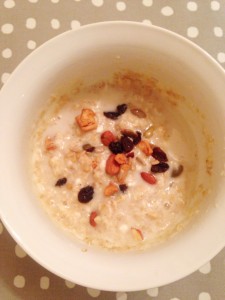 And finally our finished product.  Bon appetit!
NEW ENGLAND CEREAL
1/2 c. Cottage Cheese
1/3 c. Quick Cooking Rolled Oats
Mix together and microwave for 90 seconds. Stir in your favorite milk and toppings  and enjoy!
What did you have for breakfast today?
XOXO Laura
Share This: