Fall is finally here! Well, not in Arizona really, but we are having fun pretending anyway.

We've already taken a trip to our local apple orchard and made our first apple pie of the season, yum!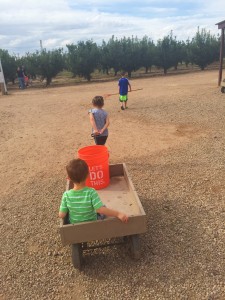 Lucky for me, this 8 month pregnant mommy had some great workers at the orchard!
We had a blast and yes, the pie was as yummy as it looks!!!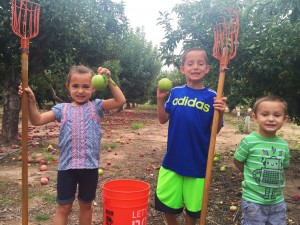 We learned about all of the different kinds of apples and got to pick almost every kind! Including enough Granny Smith apples to make our apple pie.

Find my favorite recipe for the apple pie HERE and the crust HERE.
So in honor of my favorite season, I had to share one of my favorite fall go to recipes. I have modified this recipe over a couple years and I can finally say that it is pretty well perfect! And EASY as anything!
Here you go:
---
Crock Pot White Chicken Chili
Ingredients:
2-3 Boneless Skinless Chicken Breast
1 8 oz. Jar of Green Salsa
1 can Diced Tomatoes
1 can Hominy (or corn)
1 Onion, Chopped
4 c. Chicken Broth (one carton)
3 Cans of Beans (I use two white beans + one kidney bean)
1 tsp. Garlic Powder
1-2 tsp. of Sriracha Sauce (If you don't have on hand, 1-2 tsp. of chili powder will do- according to how spicy you want it.)
3 tsp. Ground Cumin
1 tsp. Dried Oregano
1-2 tsp. Salt
For Garnish:
Chopped Cilantro
Diced Avocado
Cheese
Directions:
1. Combine all ingredients except those for garnish in slow cooker.
2. Cook on LOW for 6 hours or HIGH for 3-4.
3. Remove cooked chicken from pot, shred, and return to soup.
4. Add garnish: chopped cilantro, diced avocado, and cheese if desired.
Serve and Enjoy!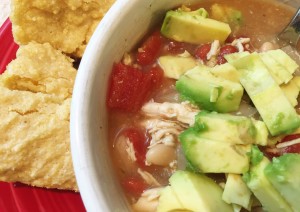 (See Corn Bread Recipe Below)
---
Corn Bread
Years ago, I found a rockin' corn bread recipe that I have since "healthified" and this outstanding recipe is the result! It is soooo easy, seriously 5 minutes to throw together!
Ingredients:
1/2 c. Whole Wheat Flour
1/2 c. White Flour (you can do all wheat if desired)
1 c. Cornmeal
1/2 c. Sugar
1 tsp. Salt
3 1/2 tsp. Baking Soda
1 Egg
1 c. Milk
1/3 c. Coconut Oil (you can use vegetable oil if you don't have coconut on hand)
Directions:
1. Pre-heat oven to 400 degrees. Spray a 9 inch round cake pan.
2. In a large bowl, combine flour, cornmeal, sugar, salt, and baking powder. Stir in egg, milk and oil until well combined.
3. Pour batter into prepared pan, and place in the oven. Bake for 20-25 minutes.
---
I love making these recipes together, especially on Sundays before church. It requires very little effort to finish the meal and put it on the table quick to feed hungry bellies after church!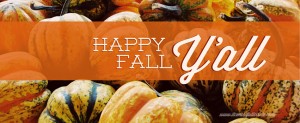 Share This: