This recipe is another family favorite! (I'm beginning to think I say that about every single recipe I post— oh well, it's true! And your family will love it too!)
Don't let the word "Curry" scare you away, this doesn't have to be a spicy curry dish, it can become whatever you want! You can tone it down with a hint of curry flavor or spice it up! The recipe allows for your discretion and to season by taste.
Of course this is super easy and involved the crock pot… 'nough said, right?

This is a definite crowd pleaser and makes plenty.
What You'll Need: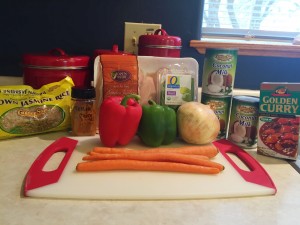 including these bamboo shoots that I forgot to add in the picture.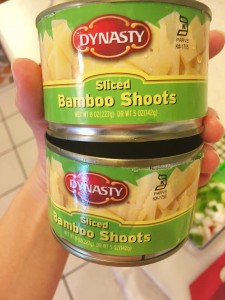 Ingredients List:
6 Chicken Breast
Brown Jasmine Rice (yes! you can buy brown jasmine rice!)
3 Cans of Coconut Milk
1 Box of Golden Curry (pictured above)
Extra Yellow Curry Seasoning (add according to taste)
1 tsp. Basil
2 Cans of Bamboo Shoots
1 Onion
1 Green Pepper
1 Red Pepper
1 – 1 1/2 c. Chopped Carrots
1/4 Brown Sugar (if you want it a little sweeter curry taste)
Recipe:
Cook 5-6 boneless skinless chicken breast pieces in a crockpot for 6 hours, and shred.  Then add 3 cans of coconut milk, 1 box of golden curry, 2 cans bamboo shoots, brown sugar (if desired). Sautee onion, green pepper, red pepper, and carrots until cooked. Add to crock pot. Add basil and extra curry seasoning to taste. Simmer all for 30 minutes or until warm, and make sure the curry is all dissolved.  Serve over cooked brown jasmine rice.
*You can also serve this yummy curry dish as a soup! Add a couple extra cans of coconut milk, some extra yellow curry powder and leave out the rice (or add it into your soup if you wish!) So yummy!
Pictures: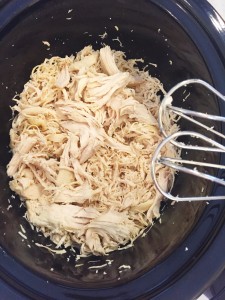 I always shred with beaters- so easy!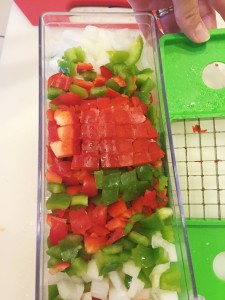 Chopped these veggies in two minutes flat with my
 Onion Chopper to find it click HERE. You can also find this in our store HERE.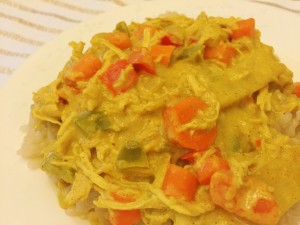 Serve and Enjoy!!! (Totally kid friendly by the way!!!)
Share This: