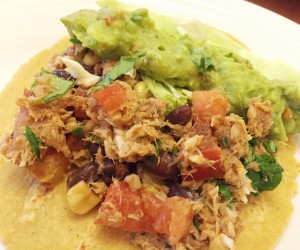 The perfect meal for a hot summer day, or any day! I have been wanting to post this recipe forever, but with all this transition we've had (traveling, moving, etc.) and most of the time no kitchen to call my own, I haven't been able to. This is a recipe that I came across years ago, and have changed and modified to perfection. Feel free to try it, tweak it, and make it your own! Don't let the word "fish" scare you either. I have made it for people who thought they didn't like fish, and they didn't even know that they were eating fish! If you are totally anti "finned friends" then try it with shredded chicken.

Here it is for your viewing and tasting pleasure!
This is seriously an all time FAVORITE recipe for my family.
I have evidence this time! I had to take these pictures quick, because these kids downed their food in minutes– no struggle, just happy faces. Yes, this recipe is that good!
Not to mention, the hubs and I love it too.
Without further adieu, here is the recipe with pictures, and I included my favorite homemade guacamole recipe at the end as well.
---
Ingredients for fish tacos: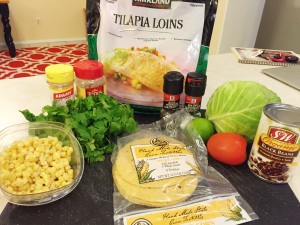 Pre-Baked White Fish (I use tilapia)
Corn Tortillas
Lime Juice
Chopped Cilantro
Diced Tomatoes
Chili Powder
Cumin
Salt
Pepper
Corn
Black Beans
Shredded Cabbage (for topping)
Basically, once you have cooked and shredded the baked tilapia, you just throw it all together!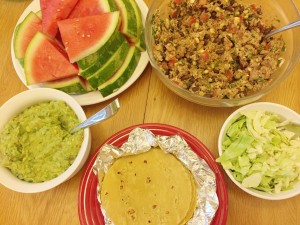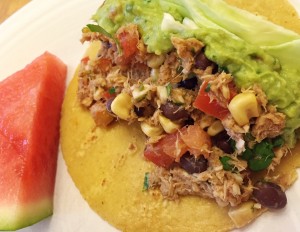 Here is the official Marathon Momma Fish Tacos Recipe
Serves: 5
3 frozen tilapia steaks
1 pkg. corn tortillas
1 lime, juiced
1/2 c. chopped cilantro
1/2 c. diced tomatoes (I use fresh Roma tomatoes)
1-2 Tbs. chili powder (adds some spice and spunk so go to taste, I do 2 Tbs.)
1-2 Tbs. cumin (I like cumin so I do 2 Tbs.)
½ Tbs. salt
1/2 Tbs. black pepper
1/2 c. corn
1 can of black beans
1 c. shredded cabbage (for topping)
 Preheat oven to 350 degrees.  Bake tilapia for about 15 minutes or until cooked (will be opaque white in color.) Shred with a fork, then add to mixing bowl.
 Mix in the rest of the ingredients and add to the corn tortillas. Garnish with shredded cabbage and serve. (Add guacamole if you are a lover like us! See recipe below.)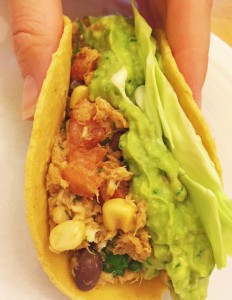 3 avocados ­ peeled, pitted, and mashed
1 lime, juiced
1 teaspoon
salt
1/2 cup diced
onion (optional, I omit)
3 tablespoons chopped fresh cilantro
2 roma (plum) tomatoes, diced
1 teaspoon minced garlic
In a medium bowl, mash together the avocados, lime juice, and salt. Mix in
onion, cilantro, tomatoes, and garlic. Refrigerate 1
hour for best flavor, or serve immediately.
---
Enjoy this incredible deliciousness and let me know how it goes! Have you tried my other Pesto Tilapia Taco Recipe? Yum! You will love it! Find it HERE.
Share This: