Back in December, I ventured to Salt Lake City, Utah to visit family and one certain thing about this trip changed my life… my foodie life.

My awesome sister-in-law and I had a lunch date where she took me to one of her favorite places for some vietnamese food. A little restaurant called "Oh Mai". I LOVE trying new things, and occasionally that bites me in the back side… but this time, it was HEAVEN! This is a picture of exactly what I ate from their website (except I tried the tofu kind, they also have chicken.)Go to Oh Mai's website HERE.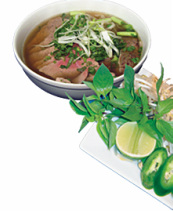 This delectable vietnamese soup is called "PHO", pronounced "FUH"
… I know, right? What a name.

In all my excitement after trying this incredibly yummy and healthy dish, I started asking people everywhere, "Have you tried Pho?(Fuh?)"… Without a doubt, almost every time, I would get crickets and blank stares… "Have I tried what?!" —Me feeling like an idiot— "You know, pho (fuh)— the vietnamese soup dish?"—Hehe…. awkward. I try to express the incredible marrying of flavors that is in this bowl to people, but really, you just need to try it!
So, scout out your local vietnamese restaurant and try it. Lucky for me, my sister Amy apparently has known about Pho for a long time (I can't believe you've been holding out on me all this time sis!) and she found a great recipe that I'm going to share with you all so you can make it whenever your little heart desires! Here is my first attempt from last night. I must say, it was a success all around and we are enjoying leftovers today!
Never a dull moment with this girl around.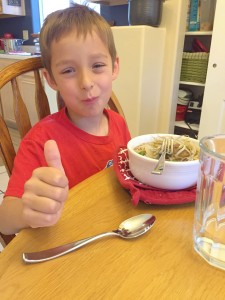 Proof they liked it.

Not contrived, I promise!
Here's the Recipe, special thanks to my sis again!
---
VIETNAMESE PHO*
Ingredients:
8 ounces rice noodles
12 ounces lean beef sirloin, fat trimmed
Kosher salt and freshly ground pepper
1 large onion, halved
1 4 -inch piece ginger, unpeeled, halved
3 cups low-sodium beef broth
5 star anise pods
1 cinnamon stick
4 scallions
2 jalapeno peppers, preferably red and green
1/2 cup fresh cilantro
2 to 4 tablespoons fish sauce
1 cup fresh bean sprouts
Directions:
Prepare the rice noodles as the label directs.
Meanwhile, place a large pot over high heat. Poke the meat all over with a fork to tenderize it and season with salt and pepper. Sear the meat until charred but still rare, 2 to 3 minutes per side, then transfer to a plate. Add the onion and ginger to the pot; cook about 4 minutes. Add the broth, 3 cups water, the star anise and cinnamon, reduce the heat and simmer about 20 minutes.
Meanwhile, thinly slice the scallions and jalapenos (remove seeds for less heat) and tear the cilantro. Thinly slice the meat against the grain. Drain the noodles.
Add the fish sauce to the broth and boil 5 minutes. Discard the ginger, star anise and cinnamon stick. Remove and slice the onion. Divide the noodles among 4 bowls; top with the broth, beef, scallions, cilantro, bean sprouts, jalapenos and onion.
Per serving: Calories 334; Fat 4 g (Saturated 1 g); Cholesterol 34 mg; Sodium 961 mg; Carbohydrate 51 g; Fiber 2 g; Protein 22 g
*Don't forget you can cook this with vegetable broth, and add tofu or chicken instead. Experiment with it! I will be!
*Just a note, if you are pregnant, you will want to through the mung bean sprouts in the broth to let them cook a little at the end. Learn why HERE.
---
Enjoy! Let me know how you like it!
Share This: