Saturday is a special day, it's the day we get ready to Sunday.

I don't know about you, but our Saturdays are usually jam packed— for instance—
This morning while the little ones were sleeping sweetly and soundly, hubby woke up for a run. So proud of him, he is really working hard to get his endorphins in while balancing the rigors of medical residency life. After he returned home, I headed to the gym and walked 6 miles at a fast pace, totaling 23 for the week. One thing about Arizona summers— if you don't get out to exercise BEFORE the crack of dawn, it's a date with the treadmill for you! But I don't mind, I have had some really awesome listening entertainment to keep me company on my long walks. You can check out the faith filled life stories of some incredible people HERE and they are free!
Here's my 27 week gym mirror selfie

Although embarrassing to take– yes, I am that weirdo taking gym mirror selfies! Haha, it's actually been a great way to document this growing baby girl of mine.
Notice in the above right picture, my belly button is starting to stick out. It always reminds me of the thermometer in a Thanksgiving turkey letting you know the turkey is done. In my case, my belly button is a sure indication for people as I get bigger, that I'm "done" and ready to deliver!
Anyway, back to Saturdays. Today we are doing laundry, cleaning, haircuts, along with some sure to be had family fun!
So, after coming home from the gym, it was "go time".
Well we wouldn't be starting our productive Saturday off right without this delectable
Citrus Green Smoothie.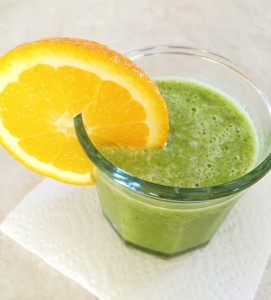 The recipe is actually a sample I tried from a Vitamix demonstration at Costco! The kids and I loved it! I've done some tweaking and now it's perfect. ENJOY!
INGREDIENTS: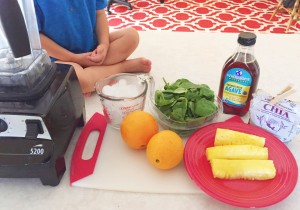 Marathon Momma's Citrus Green Smoothie
2 c. of Ice
2 c. Spinach (heaping)
2 Whole Oranges, peeled
3 Fresh Pineapple Spears (or equivalent frozen)
1/4 c. Chia Seeds (tasteless and protein packed!)
Agave Nectar (sweeten to taste)
1 1/2 c. Water
Blend it all together and enjoy!!!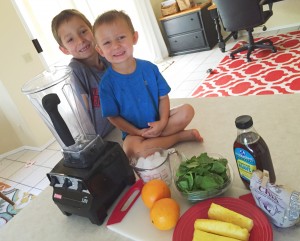 And a special thanks to my handsome helpers this morning.

Make it a great day!
XoXo- Laura
---
Do you have a favorite smoothie recipe that you can't live without? I want to try it! E-mail me at MarathonMommaLa@gmail.com or comment here.
Also, have you tried my famous Green Monster Smoothie? Find that HERE.
If you're a peanut butter lover, you will thank me!

Share This: