---
I came across this yummy recipe HERE a while back, made some modifications, and my family absolutely loves it. Most especially my little one year old! I don't know about you, but I am a sucker for pumpkin anything, fall days, crisp air and holidays! So the combination is amazing!
With so much yummy food around ALL THE TIME during this time of year, I love this recipe. It is so so tasty, easy, and can be stored to eat for a few days. You can get that yummy pumpkin/fall deliciousness without feeling guilty after! I promise you will love it!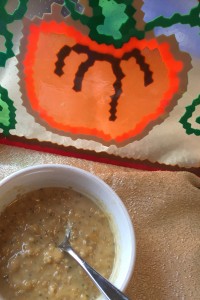 What You Need:
Steel Cut Oats
Almond Milk
Brown Sugar
Pumpkin Puree
Cinnamon
Salt
Vanilla Extract
Butter
(Sweetener of Choice— I prefer REAL Grade A Maple Syrup)
1 c steel cut oats
2 c almond milk
2 c water
1/2 c dark brown sugar
1 c pure pumpkin purée
1/4 c chia seeds
1/2 t cinnamon
1/4 t salt
1 t vanilla extract
2 T butter, melted
Sweetener of choice: I prefer real maple syrup (from Vermont where I served my 18 month mission!) Other options would be sugar, honey, stevia, brown sugar, berries, so many choices!
Instructions
Spray inside of crockpot with cooking spray.
   2. Pour mixture in crockpot, cover. Set on timer for 7 hours on low.
   And that's it! It's that easy!!!
This recipe makes roughly 4 cups of oatmeal.
NOTES:
I double this recipe for my family of 6 and then keep it in the fridge and we can eat it for breakfast for a few days.